Currently running S1-Event tournament:
n.a.
Gameguide:
Please note that the S1-Event is still under development.
Therefore bugs and issues in the event system are very likely.

Playing rules:
To guarantee fair gameplay during the S1-Event, please make sure to read the following rules:
&nbsp • When participating in the S1-Event, please do not leave your character unattended delibaretely (AFK).
&nbsp&nbsp&nbsp If you join the S1-Event, playing your character is required.
&nbsp • Participating in the S1-Event with more than 1 character at a time is not allowed and will lead to punishments
&nbsp&nbsp&nbsp such as exklusions from future S1-Events.
Punishment options:
&nbsp • Temporary exklusion from future S1-Events.
&nbsp • Permanent exklusion from future S1-Events.
The S1-Event is a 1vs1 PvP-Event, that is held as a tournament with double elimination brackets.
That means if a player looses 2 Sets, he is out of the tournament.
(A Set is played as a "Best of 3", the player who wins 2 rounds does win the Set.)
Rewards:
- Win: 10 Arena Silk
- Draw/Loose: 5 Arena Silk
- Placing 1st at the S1-Event: 100 Arena Silk
Notes:
- Players are able to buy items from the Arena Item Manager NPC with Arena Silk.
- Players automatically start each round with a full berserk bar. (There is only 1 berserk each round.)
- Energy of life berserk regeneration is not usable in the Survival Arena.
Berserk use depends on the participants race. There are 3 cases:
&nbsp •
Case 1:
EU-Character vs EU-Character (One berserk each round, free to use anytime.)
&nbsp •
Case 2:
CH-Character vs EU-Character (CH has to use berserk first, only then EU is allowed to use it.)
&nbsp •
Case 3:
CH-Character vs CH-Character (no berserk is allowed)
How the S1-Event is played:
1.
Wait for the game notice that the S1-Event registration is open.

(Notes: The event schedule is chosen and controlled by the GM at random times.)
2.
Enter the S1-Event area.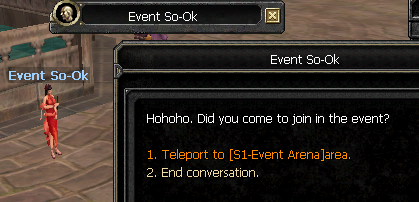 3.
Players have to register at the S1-Event Manager NPC and choose "Accept".


(Notes: Players can cancel their registration at any time by talking to the NPC again and choose "Refuse".)
4.
The S1-Event registration period ends at this notice:

(Notes: Only players that have registered to the S1-Event, are able to participate.)
(Notes: There must be at least 4 players registered for the S1-Event, in order to start the Event.)
5.
When two players for the next Set are chosen by the [GM], they will be teleported to the event area.
6.
Buff-Phase: Players have 30 seconds to buff and prepare for battle.
7.
Battle-Phase: Players have 3 minutes to fight each other.
8.
You gain one point either by killing your opponent.
(Notes: If both players are still alive after the 3 minute Battle-Phase is over, then both teams will get one point.)
9.
Both teams will get teleported back to the start position for the next round.
10.
The player who reaches 2 points first is winning the S1-Event Set and advances in the bracket.
11.
Players will be teleported out of the Arena when the Set is over. Please stay tuned for your next match.
(Notes: Players are eliminated from the tournament when they have lost 2 Sets. Please don't leave the S1-Event area after loosing your first Set!)